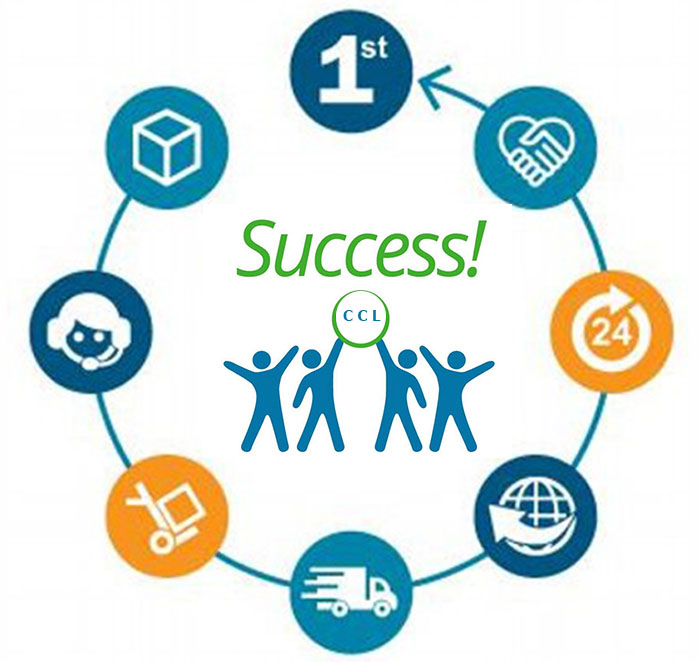 Incorporated in 2012 with HO at Tuticorin, CCLPL has currently offices across India Chennai, Bangalore, Coimbatore, Tirupur, Mumbai ,Kolkata with a warehouse network coming up. over the last decade we have evolved into a international logistics service provider of repute covering the whole gamut of services including Air / Ocean forwarding , Inland transportation, Warehousing & distribution as also customs clearance. Our strength is derived from our very experienced staff as also our strong network of Global partners and strategically located network 90+ agencies covering the world wide destinations.
We have the necessary expertise and experienced staff capable of undertaking service requirements of corporate customers of any size.
We also have the necessary back up to follow SOP's and handle nominations to the satisfaction of our esteemed associates worldwide. It is very true when we claim it.
Collaboratively administrate empowered markets via plug-and-play networks. Dynamically procrastinate B2C users after installed base benefits.
Dramatically visualize customer directed convergence without revolutionary ROI.
As an approved agent we have maintain direct contacts with a variety of Air Carriers to provide the most effective solutions to our clients . The way we move your goods is determined by your requirements and delivery deadline. It is of prime importance to us that we get your shipments to their destinations in a timely, safe and cost efficient mode. We take care to ensure that we execute your shipments in line with the requirements as prescribed by the Indian customs Authorities and the Airline to ensure a hassle free delivery. With the backup of an experienced operation staff we ensure correct handling. Air Cargo is one of our prime products. Our expertise in the Air cargo movement can be outlined by our services profile namely
Import / Export Movement by Air
Choice of premium and deferred carriers
Airport-to-Airport and Door-to-Door services
Multi varied product handling
Expertise in handling DAP / DDP cargos.
The difference we deliver is a personalized approach with a back up of expertise and knowledge combined with resource, modern technology and personnel with enthusiasm to provide flexible, timely and dependable services. Our infrastructure and network of offices across India help ensure the success of our air freight operations Worldwide. We firmly believe that Ocean freight need not necessarily mean slow mode of movement, we rather look at it as an economic option of movement for a customer with good inventory control. We maintain a very good relation with liners across India helps us execute your shipments with a clear understanding of the liners and routes enabling a professional movement with most suitable solution. We work with quality shipping lines and overseas partners to ensure consistent and reliable service. It has been our endeavor to offer most reliable and Cost effective Ocean freight services in a Time bound manner.
From the smallest spare parts shipment to a complete industrial complex, no shipment is too small or too large for us to handle. You will be kept regularly updated with status reports detailing the latest situation on the progress of your shipments at every stage till it reaches the destination. Our Services in Ocean Freight include
Import / Export forwarding
Full-container-load (FCL) Consolidation
Less-than-container-load (LCL) Consolidation
Multi-Modal Transport Operation
Special equipment handling.
Our system provides warehousing and distribution centres for companies with a need for a high-performance, yet flexible infrastructure. Through our shared logistics capabilities, our customers gain the benefits of our customized services. We offer real-time access to inventory status using a simple, intuitive method in managing your inventory. Our state of the art system includes bar code scanning, compliance labelling, space optimization and value-added support services.
We offer a wide variety of warehousing, distribution, and value-added services designed to speed up your supply chain as efficiently and cost-effectively as possible. By utilizing our efficiencies and experience to reduce your total cost of Warehousing and Distribution, your company can focus its time and money on what really matters in your industry instead of wasting valuable resources on logistics. Our services in the area include
Integrated Warehousing & Distribution System
Wide area Distribution
E Commerce order processing